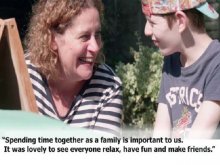 Fundraising help
As well as your commitment to training, Phab need you to pay just as much attention to your fundraising. Our running events, like those of many charities are our largest source of income, making it really important for us, that you put in lots of effort. This is why we have come up with some tips and ideas to help you get the most out of your fundraising.
Most importantly, you need to set up your online page – it is always a good idea to kick of donations with an amount from yourself as no one likes to be first.
 Please Read through our list of tips and download the fundraising packs below, these are designed to assist you.  Before undertaking any fundraising event, please ensure you download a Health and Safety Risk Assessment form and read through Phabs guidance notes on risk.
For a Fundraising from work pack, click HERE
For a Fundraising for kids and schools pack, click HERE
For other Fundraising ideas, click HERE
We seriously recommend that you organise some events to raise your sponsorship, as it is hard just to gain sponsors.  Remember, we are here to help you every step of the way and will happily send you any promotional material you may need to make your event a huge success.
Fundraising tips from Phab
Start as soon as possible. Adopt a similar determined and planned approach to your fundraising as you do for your training.
Enlist the help of others, encourage family, friends and work colleagues to help fundraise on your behalf. Rather than cold calling, try to target organisations, businesses or individuals where you already have a contact.
Make a list of all your family, friends and work colleagues as well as associates you know through sporting and social activities. It helps to list them in separate sections and decide how you are going to approach them and what you want to say to them.
Face to face is best. It is more difficult for sponsors to say no if you are in front of them. If you can't meet with them, send them a letter or email.
Meet as many potential sponsors as you can. Contact your local newspaper or company newsletter and tell them about your venture. We will supply you with a press release.
Get Creative. Decide  what event you are going to be arranging and promote this on social media and ask your friends to share your post too.  Have a look at the packs we have put together for you to make this as easy as possible, click HERE
Notice boards. Don't forget the value of a work or local pub notice board for displaying a poster.
Collection pots – ask us for these and put in your local pubs, shops etc
In our experience the hardest part of any sponsored event, including the Virgin Money London Marathon, is collecting your sponsors money after the event.  We encourage our runners to collect their sponsorship prior to the event.
All Funds you raise off line need to be paid into Phab – please ask us for our bank details".  Then please show them as off line  payments on your pages
---
For instructions for updating your Just Giving account with offline donations, click HERE. Follow the instructions for option 2.
For instructions for updating your Enthuse account with offline donations, click HERE
---
Read some thank you letters HERE; they could help you with your fundraising.
Three final things to remember:-
To Phab you are all true heroes and heroines.
Remember that most of the people you are asking for money could run but probably never will.
More importantly, you are raising money for children, young people and adults to enable them to 'Make More of Life Together'
YOU ARE MAKING A DIFFERENCE – THANK YOU!