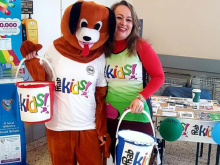 Claire Thomas, Phabkids Runner VMLM 2019, has provided the below tips for fundraising in supermarkets:
1. Every store has a Community Champion who deals with in-store fundraisers.  Ask for the Champion. 
2. Get a letter from your charity showing you are authorised to fundraise on their behalf. Get a copy for any stores you are approaching. 
3. Explain to the store what you are doing, when and why. Some stores only allow their approved charities to do fundraising- Tesco is one of these so I would avoid Tesco. In my experience Morrisons is excellent and I know others who have had support from Asda. 
4. Ask if you can have a weekend slot, preferably a Sat to do a bucket collection in store.  Some people do bag packing *but you need around 5 or 6 helpers to pack at tills if you do that. Bucket collections will require less helpers. 
5. Recruit a small team of 3 other helpers if you can. The more of you there are,  the more you will likely raise. 
6. Contact the charity for fundraising materials e.g. t-shirts for you and your helpers, collection buckets  x4, balloons, posters, info leaflets to raise awareness, stickers to give when people donate. 
7. Try and make the collection exciting and interesting if you can as this will draw people over i.e. fundraising in fancy dress , fundraising on a treadmill,  £1 a kiss etc etc 
8. Get money bags from your bank in advance as you will need to count all monies raised and bag it according to banks rules before you can transfer to charity. 
9. Always follow up at the store with a THANK YOU and tell them how much was raised at their event. Also always thank helpers and tell them the outcome of money raised. 
10. Take loads of photos of your fundraiser..send to the store and also the charity. 
11. Don't venture outside the store to collect as otherwise you will need a license from your local authority. 
12. Dont sell raffle tickets instore as this requires a lottery license,  unless the charity has one and gives permission for you to use it.
13. Never shake the bucket. 
14. While chatting to the Community champion try and secure a few more dates and also dont be afraid to ask if they will donate a raffle
* Please note that Phab liability insurance does not cover bag packs, if the supermarket needs this, then you will need to arrange