We were so delighted to receive this picture of Leah Brunton with Sally Dynevor ( aka Sally Webster from Coronation Street)
It is good to involve the whole family in your fundraising and Leah's mother Angela  owns and runs a dance school where Leah is a teacher.  Angela contacted Phabkids to say that she had organised a fundraising evening to assist Leah with her fundraising.  On the night there were many activities and we were happy to provide a wide range of fundraising materials including a request for the largest vest that we had for Teddy.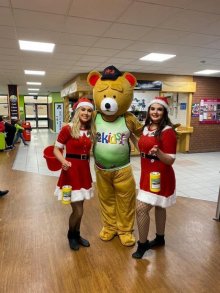 It was so lovely to receive the photograph of Leah with Sally and we all thank Sally for attending the event and her wonderful support of Phabkids.
It really is a family affair with the Brunton family, Leah's Father Colin ran in 2019 and is also running in VMLM 2020.