Tuesday, 06th October 2020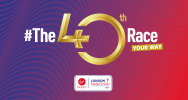 The London Marathon was always going to be a special occasion this year. With a question mark over it for most of the year, the first, ever autumn marathon eventually took place on 4th October. The 40th Race was memorable for lots of reasons, and for Phab it was because of the amazing 150 people who still chose to run for PhabKids. Despite the fact that the they were not going to experience the crowds of London and all that comes with running with thousands of others in a world-famous race, they still ran - in the wind, the rain and, at times, on a lonely path.
Stories from the day are truly inspirational. The barefoot ninja, Kevin Brittain, not only ran the marathon but did so in a heavy (and very wet from rain) costume and managed to take the World Record on the day, making him the world's fastest male marathon runner dressed as a ninja!
James Walton, completed his 24th marathon, his 22nd for Phab! James usually flies to London just to run for Phab, this year he ran in his home-country of Singapore, humidity was more of an issue than the chilly British weather!
8 year old, Chase, supported his mum, Julie's, marathon fundraising by completing his own marathon challenge. Chase ran 2.62 miles every day for 10 days - an incredible achievement from someone so young. A true Phabber, Chase has previously enjoyed a Phab holiday and his proud mum, Julie, is both a runner and a volunteer for Phab.
For some, running wasn't quite enough! Stephen Perry-Byrne pledged to shave his head if he raised an extra £100 before crossing the finish line, £450 later he is now bald!
We must also thank the businesses that have supported our runners, The Card Factory Foundation donated an amazing £1500 for their long-serving staff member, Amy Giles, to run the virtual marathon and have already pledged £2000 for the 2021 marathon as well as donating to the 2.6 Challenge earlier this year.
There are too many amazing people and stories to highlight and we are so grateful for all those who ran for PhabKids. The money and awareness raised will help us to keep providing magical experiences for disabled and non-disabled children and their families. Challenging activities such as canoeing, rock climbing and caving are just a few of the things children do on the Phab holiday projects. Children get to experience time away from home for the first time and build friendships and independence. Thank you for making this happen and for being a part of Team Phab 2020!