The 2.6 Challenge was set up to help save the UK charities following the COVID-19 pandemic.   This was on Sunday 26th of April the day that would have been the date of the 40th  Virgin Money London Marathon 2020. We were thrilled that so many of our VMLM 2020 runners used this opportunity to fundraise towards their sponsorship, but we also had many previous runners and cyclists join in to help fundraise and help to substitute a small way to the loss of income that all UK Charities have endured.
The challenge involved 26 so it could be 2.6 miles – 2.6 km a donation of 26p or £6.20 or £26.00 or £62.00.  Everyone was advised to keep within the Government Guidelines and many inventive things were thought up from pancake flips, to how many marshmallows in the mouth.   It was so lovely to see so many photographs of Phabkids vests out and about in the beautiful sunshine.
Here are some of our lovely supporters – THANK YOU
Craig Broadbent 
Craig ran for Phab in 2019.  He also came to visit one of our residential projects in the New Forest and had such a great day.  Craig has his own place in VMLM 2020 and also in the PRL RideLondon-Surrey 100.    Craig really took to this challenge, which happened to be his birthday!   He did 26 challenges mainly wearing a mask, these varied from eating  26 mini mars bars, cycling 2.6KM – 26 up and down the stairs, 26 cup cakes iced and delivered to the neighbours – through to 26 shots at the end of the night.  Craig then sat down and said 26 nice quotes to people.  Craig actually made it onto the BBC news.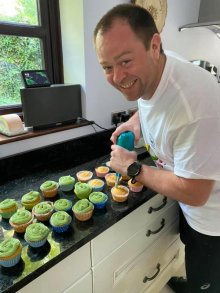 Harry and his wife Madeleine used to run the Phabkids Marathon team for many years.  We are so grateful to Harry who completed a marathon around his garden in different fancy dress costumes every day. Harry Fry 
Steve and Luke Turner
Steve has cycled for Phab for many years and welcomed a challenge with his son Luke.  They cycled 105 miles at home on the London Classique Course using the Swift Indoor system.  No mean feat all the family were involved with Justine his wife and daughter Abby providing the refreshments. 
Amy Giles and Mum Barbara 
Amy ran 4.5 miles every day and was joined by her mum Barbara who had not ridden a bike for over 50 years.  Thank you Barb! 
Jo Tunley
Jo has run 3 times for Phabkids and is a regular volunteer on our holiday projects, Jo ran 2.6 miles around her back garden to raise funds for us.  Despite being very busy as a nurse on the COVID-19 wards she found time to fundraise  for Phab.
Sarah Whiteman
Despite reaching her target in sponsorship Sarah has carried on fundraising for Phab – here are some of her Phab U lous cakes!
Suzanne Angeloni went on a 6.2 mile run.
Keith Johnson  ( Kefo) 
Keith ran 26.26 miles with his twin brother Jonathon ( Jono) in a staggering 3:35:28.
John King 
John has run for us for the past two years and is going to do a mile of the school playground for the next 26 days. 
Mick Brain 
He was challenged to 26 of the following, star jumps, press ups, sit ups, plank, burpees, barbell curls, and then 2.6 mile run around the close where he lives.
Debbie Parker 
Debbie has run for Phab for 3 years and also used to run our Croydon Youth Phab something that she is keen to start up again. Debbie was challenged to different challenges from singing, to playing a recorder there was a lot of dressing up involved.
Nina Wiseman
Nina set herself 26 challenges with the first one being a run and this went from 26 Burpees through to 26 minutes of yoga, putting on 26 T shirts to 26 plaits in her hair. 
Dayle Bryant 
Dayle has worked alongside Janine as part of the marathon support team for the past 4 months, and she kindly took to her bike on Sunday and rode 26.2 miles for Phab.  Dayle is a runner and she had not been on her bike for a few years.
Stephen Perry-Byrne
Stephen ran 16.2 miles in 2hr28m!  Well done.
Peter Hayes
Peter is running the Virgin Money London Marathon as part of Team Woodbrook and ran 6.2 miles as part of the challenge.
Linzi Pattinson
Linzi ran 16.30 miles no mean for such a  hot day. 
These are just some of the amazing challenges and stories udertaken by our Phabulous team!  Well done everyone that took part.